Non Timebo Mala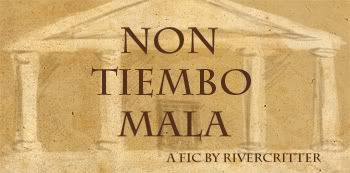 Title: Non Timebo Mala
Author:
rivercritter
Artist:
dnitegirl
Fandom/Genre: Supernatural AU
Pairing(s): Dean/Castiel
Rating: Rated strong R
Word Count: 80,222
Warnings: This contains some violent scenes, graphic depictions of male/male sex (consensual) and some brief scenes of non-consensual assault.
Summary: AU Set in ancient Rome. Castiel is the youngest member of the Novak family. His eldest brother Michael has designs on getting a seat in the senate but to do so he has to earn the favor of the powerful senator Azazel. When Azazel shows interest in Castiel, Michael sees an opportunity to use him as a bargaining chip. Cas, being a good son and loyal brother, isn't happy about it but is willing to go along...right up till he meets a certain green eyed Legionnaire named Deanarious who turns everything upside down. Action, adventure, sword fights, and treachery stand between them and their love.
Author's Notes:
I want to give a HUGE thank you to some very special people. My dear friend
agtspooky
was kind enough to act as my alpha reader and I know, without question, that this story wouldn't have come to completion without her. She was always there, cheering me on, asking for new chapters, and giving me awesome ideas to add to this thing. When I wanted to quit because I worried no one would enjoy this work, she was the voice of reason yelling at me to not give up. Thank you, sweetpea. You are AWESOME. I also want to thank my betas
smiley_bandit
, who was kind enough to take on my story despite being very busy, and
winchesterlvr
who stepped up to help out as well. Last but oh so certainly not least, I want to thank the AMAZING
dnitegirl
who was so kind to step up and take on my story even though she had another one to work on. She is an incredible artist and I consider myself very lucky to have snagged her. She's been super sweet and just incredible to work with. I highly recommend going to look through her art. The master post to her art can be found below.
EDIT:
Due to the loss of MegaUpload, I am now using SendSpace. The link to the .pdf file works again so if you wish to download the story, you can click the link above and it will work. :) Or you can click
here.
Whichever.